Local Man wins $20,000 hole in one at Citizens Bank Golf Tournament
Grand Prize Sponsored by Tustin Toyota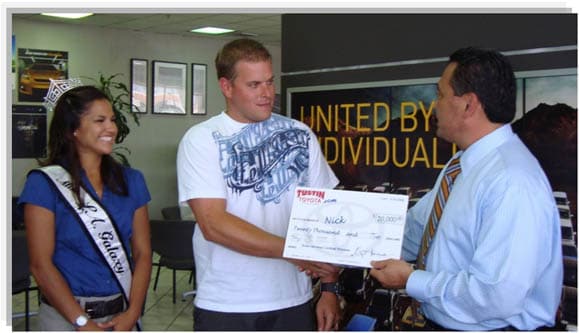 Pictured left-right: Representing the OREMOR Automotive Group is 2009 Miss LA Galaxy, Katrina Lopez; Nick, contest winner; Glenn Kashima, Tustin Toyota's Parts and Service Director
ORANGE COUNTY, CALIFORNIA, JULY 1, 2009? It started out as an ordinary game of golf for Nick. He and his friends had taken an early start to the day to enjoy a sunny morning on the course. But it didn't stay "ordinary" for long. As Nick teed off at a par 3, his shot seemed to be headed in the right direction. From where he was, he couldn't quite see the hole, but when it dropped behind the hill, he knew he would be sitting well.
As they walked down the back slope towards the green, his ball wasn't in sight. Had it rolled out into the rough? Or maybe it was a hole-in-one? It seemed unlikely, but Nick walked towards the flag.
There it was. His first hole-in-one, and a valuable one at that. Such a shot meant Nick was the Grand Prize winner of a check for $20,000 from Tustin Toyota, and that's when the shock and excitement set in!
On the first of July, Nick, his wife, and their baby daughter came to Tustin Toyota in Orange County's Tustin Auto Center. Mark Gittin, General Manager of Tustin Toyota, Glenn Kashima, the Parts and Service Director, and OREMOR Automotive Group Community Sales Director, Katrina Lopez, also the winner of the 2009 Miss LA Galaxy honor, were all present to greet Nick and his family. As everyone shook hands, Nick's wife couldn't resist, "He can take as much time as he wants to practice his game now!" Glenn Kashima and Katrina Lopez presented Nick with his check for $20,000
(video at //www.youtube.com/watch?v=xYFYQ3HXvGI).
Nick and his wife plan to save the grand prize money from Tustin Toyota for their daughter's education.
The OREMOR Automotive Group is a family-owned and operated group of award-winning dealerships formed in 1970. Based in the Inland Empire's Ontario Auto Center, the group also has dealerships in Tustin, Glendale, and Fresno. The OREMOR Automotive Group is made up of Empire Nissan; Ontario Hyundai-Mazda; Jeep-Chrysler-Dodge of Ontario; Tustin Toyota, Toyota of Glendale, Temecula Valley Toyota, BMW of Riverside, INFINITI of Riverside, Mercedes-Benz of El Cajon, Riverside Chevrolet, Lexus of Woodland Hills and Fresno Lexus.